Ultimate Guide To Shopping Near Broken Bow
This is your complete guide to shopping near Broken Bow and the Hochatown area.
If you want activities and ideas on what to see and do, visit our most popular blog post, Things To Do in Broken Bow.
The Broken Bow area is very spread out, so make sure to map out your needs for food, equipment, and supplies for your stay, as there can be about a 15-mile drive (one way) to get to the right store.
If cooking is not your jam, check out our helpful guide to our best restaurants, breweries, and dining entertainment in the area, and don't forget to call ahead to get the latest dining availability and options.
Grocery
If you're looking for groceries, deli items, or other food-related items, check out these stores.
The Market At Local 259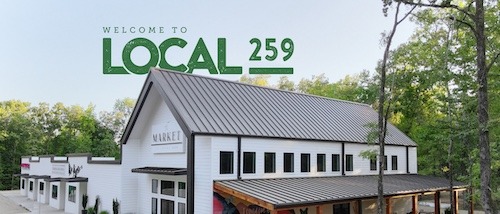 Photo Credit: Local 259 Facebook Page
Contact Information:
The Market at Local 259
42 Lucian Sorrel Road, Broken Bow, OK 74728
Website: https://www.thelocal259.com/
Pruett's Food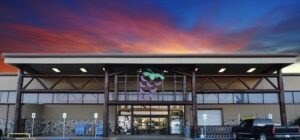 Photo credit: Pruett's Food website
Pruett's Food is a locally owned grocery, with about 10 locations in 3 states. Their original store is located just off of the main intersection in town. Any guests coming to Broken Bow from the east, south, or west will pass by on their way to their cabin or campsite.
Pruett's offers a large selection of fresh meat. They have a window available for you to see the meat butchering and packaging, proving that they offer the freshest meat in town.
The customer service here is unmatched. The staff is sweet and very helpful if you can't find an item. They also have employees that will take your groceries to your car for you.
If you're in need of a custom cake or get a random sweet tooth, Pruett's bakery is the place to go! Some people may not like buttercream frosting on their cakes as it can be too sweet. Good news! The bakery offers a cool whip icing that is DELICIOUS. It's sweet enough to satisfy your cravings, but not so sweet you want to scrape the icing off your cake. They also offer pre-made layered puddings, cake pops, and other desserts.
Next to the bakery, Pruett's offers a large deli. Here, they cut meats and cheeses to your preference, offer a large hot box, and offer something that is best described as a "cool box". In the "cool box" they offer pasta salad, potato salad, etc. It changes from day to day, so feel free to call prior to your arrival to see what they are offering that day. 
The deli also has a Simple Simon's Pizza.
Contact Information:
Pruett's Food Website
201 S. Park Dr., Broken Bow, OK 74728
(580) 584-6056
Mountain Man Meat Market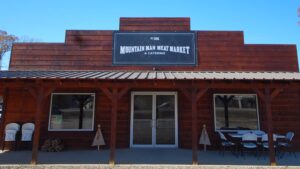 Photo Credit: Mountain Man Meat Market website
We specialize in prime and Waggu beef, take-home meals, specialty grocery items, and more. If you live in Broken Bow or are visiting, all you have to do is visit Mountain Man Meat Market. We are the place to stop if you are looking for craft beer and cigars.
Contact Information:
Mountain Man Meat Website
24 Crooked Oaks Lane, Broken Bow, OK 74728
(580) 584-5337
My Dollar Plus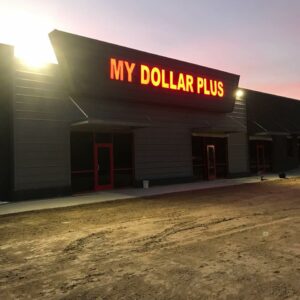 Photo Credit: My Dollar Plus Facebook page
My Dollar Plus is located in the middle of Hochatown. For most cabins in the area, it is a quick 5-minute drive away. It is a convenient stop if you forget something small like ketchup, or if you feel like getting some candy for a movie night. My Dollar Plus has a grocery section, as well as a section with cooking essentials. They also offer toiletries, clothing, tools, and more.
Contact Information:
My Dollar Plus Facebook Page
8929 N US Hwy 259, Broken Bow, OK 74728
(580) 494-3393
Website: https://www.loc8nearme.com/oklahoma/broken-bow/my-dollar-plus/6153839/
Beer, Wine and Liquor
Girls Gone Wine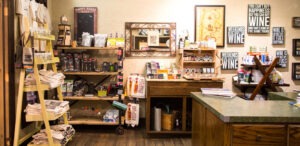 Photo Credit: Girls Gone Wine website
This boutique-style winery, tasting room and gift shop near Broken Bow, Oklahoma provides a fun atmosphere. Three friends started this shop in 2005 and since then it has become a local favorite. Great place to buy wine, taste new wines and make new friends too!
Contact Information:
Girls Gone Wine Website
10216 US-259, Broken Bow, OK 74728
(580) 306-9463
Liquor Station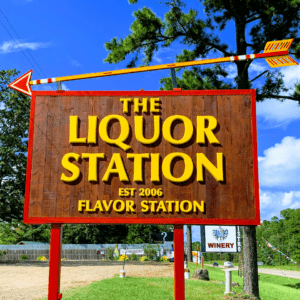 Photo Credit: The Liquor Station website
The Liquor Station is known for having a vast selection, competitive pricing and fantastic customer service. Not only will you find liquor, but also wine, cigars, beer and much more!
Contact Information:
Liquor Station Website
15 Oak Leaf Ln, Broken Bow, OK 74728
(580) 494-6029
Camping Gear & Clothing
Bruton's Outdoors
Bruton's Outdoors is a great stop for hunters, fishers, and hikers. They offer a large gun and knife selection as well as clothing, YETI products, and more. Bruton's Outdoors is located on the east side of highway 259 just south of Abendigo's. They usually have large sales, and promote these in front of their store. They also offer tube rentals or purchases. Brunton's is one of two places in the area where you can purchase your Oklahoma Fishing License.
Contact Information:
Burton's Outdoors Website
10010 US-259, Broken Bow, OK 74728
(580) 494-6494
Walmart
Broken Bow Walmart doesn't have a whole lot when it comes to groceries. About 50% of this small store is dedicated to gear for hiking, camping, fishing, and hunting. At the back of the store, you'll find all you need for your camping trip. 
They also have a large fishing and hunting section. At the back counter, you can buy your Oklahoma Fishing and Hunting License as well. 
Contact Information:
Walmart Website
501 S Park Dr, Broken Bow, OK 74728
(580) 584-3324
Antiques
BroknBo Vintage Market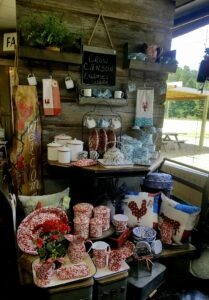 Photo Credit: BroknBo Vintage Market Facebook page
BroknBo Vintage market is just north of the heart of town. There is a 1963 Ford sidestep holding their sign, making the entrance hard to miss.
This shop has anything you could want, new or old. There is a large collection of antiques to choose from, There is also an area of Hochatime shirts, bigfoot souvenirs, handmade soaps, and coffee available. In the back, there is a large flea market available as well.
Contact Information:
BroknBo Vintage Market Website
1302 N Park Dr, Broken Bow, OK 74728
(580) 584-9232
Gift Shops
Hochatime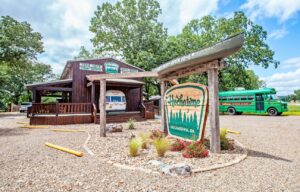 Photo Credit: Hochatime website
"Relax, I'm on Hochatime." is a common saying in the area. No trip to Broken Bow is complete without getting a shirt, hat, or bag donning the saying. Hochatime gift shop is located on the west side of Highway 259 next to the petting zoo. Their store has a large selection of Hochatime souvenirs perfect to take home to friends or keep for yourself. They also have a cute bus, making a great spot for photos.
Contact Information:
Hochatime Website
9231 US-259, Broken Bow, OK 74728
(580) 749-9490
Janet's Treasure Chest
Janet's treasure chest has been around for years. It is a must-stop for anyone visiting Broken Bow. Located on the west side of Highway 259, it is hard to miss. They have a large sign with a moose on it sitting above a bigfoot sculpture, making this store stand out. It is a great option for getting your bigfoot memorabilia, hats, keychains, stuffed animals, and more. They have a large toy section for the little ones, art for decorating your house, or small keychains to bring home to a friend. The staff here is friendly and helpful as well.
Contact Information:
Janet's Treasure Chest Website
Janets Treasure Chest Facebook Page
Hwy, 259 N in Hochatown, Broken Bow, OK 74728
(580) 494-6639
Abendigo's Gift Shop


Photo Credit: Abendigo's website
Abendigo's is a large restaurant located on the Stevens Gap turn off. Inside, they offer a large gift shop. Abendigo's has higher-end gifts such as jewelry and handmade soaps, but they also offer your usual t-shirts, key chains, and more. In the gift shop, they also offer a small coffee shop. It is worth taking a look, even if you don't choose to sit down and eat.
Contact Information:
Abendigo's Gift Website
10050 N US Hwy 259, Broken Bow, OK 74728
(580) 494-7222
Closing
Many of these charming shops have just the items that you need and fantastic customer service unique to Hochatown. Some of these shops have real gems that will leave you talking for years to come.