Restaurants Near Broken Bow, Beavers Bend and Hochatown
The restaurants in Broken Bow have anything you could ask for when it comes to food. In this area, we have options from southern comfort food, to barbeque, to great steaks. Whatever your food preference is, the Broken Bow area (including Hochatown and Beavers Bend) will have something for you.
Our restaurants offer takeout, sitting down for a nice intimate meal, or enjoying a live band on an outdoor patio. We have options for groups of all sizes. Some of our restaurants offer outdoor play areas, some offer more private seating areas, and others offer gift shops for you to explore while waiting for your meal. Whatever you choose to do, there will be great food and great service to match.
Breweries
There are a couple of restaurants in Broken Bow that serve local and regional craft beers along with delicious menu items.
Mountain Fork Brewery
Mountain Fork Brewery has anything from pizza to salads to burgers. It is a great option for all groups. For families with kids, you can look through the glass wall over the brewery where all on-site beer is made. If you have an older group, they do offer tours of the brewery so you can see exactly how your beer of choice is made.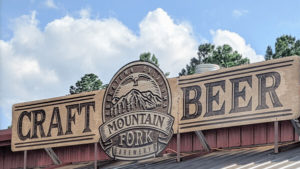 Mountain Fork Brewery also boasts a large outdoor patio for you to enjoy the fresh air with your meal. On the weekends, they offer live music or karaoke to their guests for some added fun.
Next door to the main dining area, they have a gift shop as well. They offer all the keepsakes you could want to remember your stay. 
Willow's Pick: Make sure to order the MFB Loaded Fries. They have a nice kick and are absolutely worth the money. 
Contact Information:
Mountain Fork Menu 
Address: 89 N Lukfata Trail Rd, Broken Bow, OK 74728
(580) 494-3233
Grateful Head Pizza
Grateful Head has been the top pizza place in Hochatown for over 10 years. The restaurant has Grateful Dead memorabilia throughout to give a 1967 Rock feel.
Their menu includes wings, pizza, salads, and drinks of your choice. The outdoor patio offers large tables for parties or small tables for more intimate gatherings.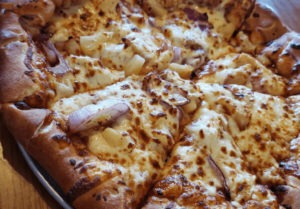 Grateful Head also has a play area for your little ones on the outdoor patio. There is live music every weekend on the patio for added fun and a groovy gift shop for you to check out before you leave.
Local tip: If you're wanting to order pizza, make sure that you order from Grateful Head. No trip to Broken Bow is complete without stopping here!
Contact Information:
Grateful Head Pizza Menu
Address: 10251 US-259, Broken Bow, OK 74728
(580) 494-6030
See all of the breweries in the area on Google Maps:
Steak House
Abendigo's
Abendigo's is the go-to for date night in this area. They have a large dining room with low lighting and slightly private booths that set the mood for any couple looking for a night together.
The menu here offers unique appetizers such as Sicilian nachos and truffle grilled cheese. You can follow your appetizers with a steak of your choice. Abendigo's offers a signature blue cheese, fried onion, and port wine reduction with their steaks for a small charge.
Personally, I do not enjoy blue cheese, but I do enjoy this sauce. If you don't feel like a steak dinner, they also offer ribs, pasta, chicken dishes, barbeque, and fish options.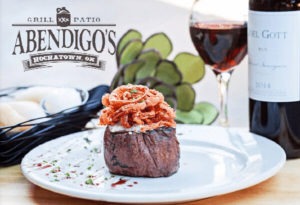 Abendigo's also offers a large outdoor patio. There is a patio bar as well as live music almost every weekend.
Before you are seated, make sure to take a look in the gift shop here. They offer higher end gifts such as jewelry and handmade soaps, but they also offer your usual t-shirts, key chains, and more. In the gift shop, they also offer a small coffee shop. The chai lattes there are delicious.
Local tip: if you are visiting in March/April, make a reservation for your dinner. This restaurant is very busy during prom season.
Contact Information:

Abendigo's Menus
Address: 259 Stevens Gap Road, Broken Bow, OK 74728
(580) 494-7222
Seafood
Shuck Me
Shuck Me is a great option for seafood lovers. The menu has the best crab you can find off the coast, lobster bisque, oysters, shrimp dishes, frog legs, crawfish, jambalaya, and more. They have a great mix of fried and lighter options.
Shuck Me also offers burgers and chicken dishes for guests that do not like seafood.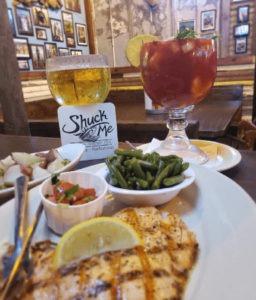 Shuck Me also boasts a large patio where they offer live music on the weekends. It overlooks the woods and a pond so you can enjoy your view with dinner.
Contact Information:

ShuckMe's Menu
Address: 83 N Lukfata Trail Rd., Hochatown, OK 74728
(580) 494-3474
Barbecue
There are a couple of restaurants in Broken Bow that serve up fantastic Barbecue. Check out these top picks.
Buffalo Grill
Buffalo Grill is a new option in the area. They have a large menu that covers barbeque, burgers, salads, steaks, seafood, and appetizers that are to die for. Inside, the restaurant has a wonderful open feel that is great for families. The Buffalo Grill also boasts a large patio with live music on the weekends for people of all ages to enjoy.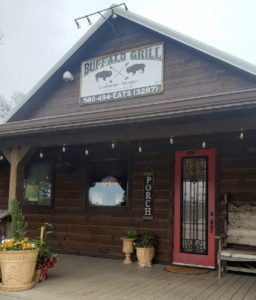 Willow's Pick: Buffalo Grill is the only place in town with a black bean burger. They come on a brioche bun with all the toppings and a pile of hand-cut fries. 
Contact Information:
Buffalo Grill's Facebook Page
Address: 6272 N US Hwy 259, Broken Bow, OK
(580) 494-3287
Rock Bottom Boyz BBQ
Rock Bottom Boyz shares their space with Adam and Eve's Coffee shop. It is a great option for families that are split on what to eat.
They offer your typical meat plates that include your choice of brisket, chicken, pulled pork, sausage, hot links, or ham plus your choice of sides. Other menu items include smoked potato salad, mac and cheese, BBQ beans, green beans, and coleslaw for side options. 
If you're feeling adventurous, you can order the "Bottom Dweller" which is a hefty serving of whatever meat you choose over their homemade smoked potato salad.
Rock Bottom Boyz BBQ also offers Loaded mac and cheese that includes your choice of meat over their mac and cheese and smothered in barbeque sauce.
Their Q-Pie is their barbeque twist on a Frito chili pie. They smother corn chips in beans, your choice of meat, and cheese. To finish off your meal, they do offer dessert on the weekends.
Local Tip: This barbeque is a great option for lake parties. Call ahead to order your meat of choice by the pound, then head up to the lake and chow down!
Contact:
Rocky Bottom Boyz BBQ Facebook Page
Address: 8949 US Hwy 259 N, Broken Bow, OK
(580) 579-5811
Southern Comfort Food
Stevens Gap
Southern comfort food is a go-to for families in this area and Stevens Gap has it all. This restaurant offers biscuits and gravy, pancakes, eggs any way, make your own omelets, and french toast for breakfast.
Their breakfast is served all day. For lunch, they offer fish and shrimp baskets, beans and hush puppies, fried bologna, hot ham and cheese, and more southern staples. For dinner, they offer anything from chicken strips to chicken fried steak.
Stevens Gap also offers two sizes of chef salads for guests that would like a lighter option. The salads are totally customizable and their "small" will fill an entire to-go tray.  All of their food is made from scratch including the assortment of pies offered for their guests with a sweet tooth.
This restaurant offers great food at great prices and their service is amazing!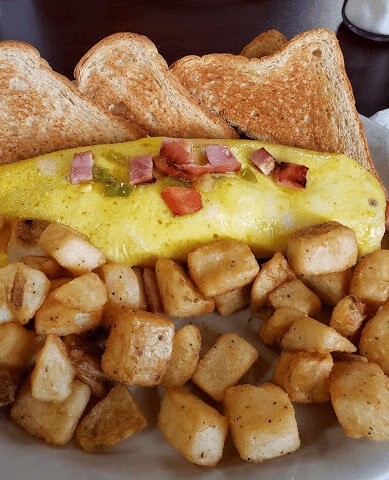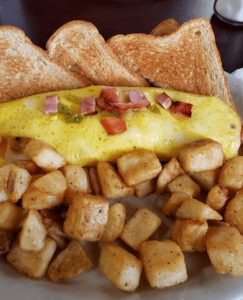 Local Tip: If you plan on ordering biscuits, make sure you order before 11. The breakfast is served here all day, but this excludes their biscuits.
Contact:
Stevens Gap Facebook Page
Address: 9955 N US Highway 259, Hochatown, OK
(580) 494-6350
Shady Oaks
Shady Oaks is a small restaurant off of Highway 259 that you may miss if you aren't looking for it.
This restaurant gives a classic 1950's diner feel with a southern twist. In the morning they offer classic breakfast options that anyone would love.
After 11, they offer burgers, BBQ, shrimp, and catfish baskets.
All of their baskets come with fries, tots, or onion rings. Fish and shrimp baskets also include hush puppies. Shady Oaks also offers dinner plates with chicken fried steaks, hamburger steaks, pork chops, chicken, and ribeye steaks.
All of their dinner plates come with two sides of your choice. For dessert, this restaurant also offers homemade pies, cake, or cupcakes.
With plates as cheap as $5, this is a great option for large families, small families, or a quick lunch.
Local Tip: Between 12-2 this restaurant is very busy and may not have much parking. We highly suggest you drive a smaller vehicle with no trailers if you are coming in around this time frame.
Contact:
Shady Oaks Facebook Page
Address: 6489 N. US Hwy 259, Broken Bow, OK
(580) 494-6366
Takeout
If you're looking for take-out restaurants in Broken Bow we have a few great options.
Rolling Fork Takery
Rolling Fork Takery is located just north of the busiest part of Hochatown. This take-out restaurant has an extravagant menu with multiple types of street tacos, angus beef sliders, an array of sandwiches, and wings.
They also offer charcuterie boards and party platters if ordered ahead of time. The salads here are not your normal salads. They offer anything from chefs salads to chicken salad, quinoa salad, potato salad, and others. 
If you aren't in the mood for a full meal, they offer deviled eggs with a twist, organic apricot and jalapeno dip, fresh salsa, peach bourbon dip, and more.
To finish their menu, Rolling Rork Takery offers cheesecakes, gourmet ice cream, protein bars, and sometimes has fresh local honey in stock.
All of their menu options are made with the freshest ingredients and are a great choice for guests that want something different.
Contact:
Rolling Fork Takery Website
Rolling Fork Takery Menu
Address: 5 Coho Road Broken Bow, OK 74728 (Look for the Subway Car on US HWY 259 N)
(580) 494-7655
Tacohoma
Tacohoma is the best option for street tacos in the area. They have a great location off of the Carson Creek entrance to the lake that is hard to miss and perfect for a quick stop after spending time at the lake.
They offer crunchy or street tacos with your choice of meat and fresh salsa. Tacohoma also serves up burritos of different sizes, chips and queso, tamales, rice, and beans. A local favorite is their elote options. You can order your elote on or off the cob. 
If you're craving something sweet, they offer Fresas con Crema, snow cones, lemonades, and limeades. Tacoma does offer a limited seating area outside for guests that would like to sit down to eat.
Willow's pick: I always order 2 carne asada street tacos with chips and queso. 
Contact: 

Tacohoma Menu
Address: 1 Carson Creek Rd, Broken Bow, OK 74728
(870) 582-3387
Hochahut
Hochahut is right off of Highway 259, across the street from the Hochatown petting zoo. It is home to the largest corn dog I've ever seen. Their "Big Daddy" is no less than a foot long. All corn dogs are hand-dipped and fried to perfection when you order. If you don't want something quite that large, they do offer a medium and a small option. 
Hochahut also offers nachos, hot dogs, frito chili pie, and more. They offer a large bar of any topping you could want. Their bar includes multiple kinds of mustard, ketchup, mayo, relish, tomatoes, onion, and others. Hochahut also has fried cheese on a stick that is so worth it.
If you have a sweet tooth, they offer fried Oreos and Twinkies. I know these items sound like a heart attack in food form, but it's worth trying at least once.
Outside of the hut, there are multiple hammocks for guest use, a few tables, and a nice space for the kids to run around. To add to the carefree environment, they have a large sound system to play music while you enjoy your food.
Local Tip: From the road, all you will see for Hochahut is a large "Corn Dogs" sign on the east side of Highway 259.  This is a great stop after enjoying some time at the petting zoo or gold mine across the street.
Contact:
Hochahut's Facebook Page
Address:9246 N US HWY 259, Broken Bow, OK
(580) 494-3647
Wrapup and Map of Restaurants Nearby
As you can see there is a great variety of cuisines available in the Broken Bow, Beavers Bend and Hochatown area. We'll keep this list updated for your dining pleasure. If you know of other great eateries that should be included we'd love to add them to this list. Please send us an email at hello@cabinsinbrokenbow.com
Use this Google Map to see all of the restaurants in the Broken Box, Hochatown and Beavers Bend area: