Countdown to Solar Eclipse 2024 in Broken Bow
Visit Broken Bow for Solar Eclipse 2024
"One of the Best Places to See the Total Solar Eclipse Next Year"
Monday, April 8th, 2024 – this solar eclipse is known as the Great North American Eclipse, and it will be visible across the United States, Canada, and Mexico. It is a total solar eclipse, which means that the Moon will completely block the Sun, causing the sky to become dark for a short period.
The path of totality, where the eclipse will be fully visible, will start in Mexico and then move through Texas, Oklahoma, Arkansas, Missouri, Illinois, Indiana, Ohio, New York, Vermont, New Hampshire, and Maine before crossing into Canada.
The duration of totality will vary depending on where you are located within the path of totality but will be up to 4 minutes and 28 seconds at the longest point. Outside of the path of totality, viewers will still be able to see a partial eclipse.
Taking proper precautions when viewing a solar eclipse is essential, as looking directly at the sun without proper eye protection can cause severe eye damage. Many organizations, including NASA, will provide information about safe viewing methods leading up to the event.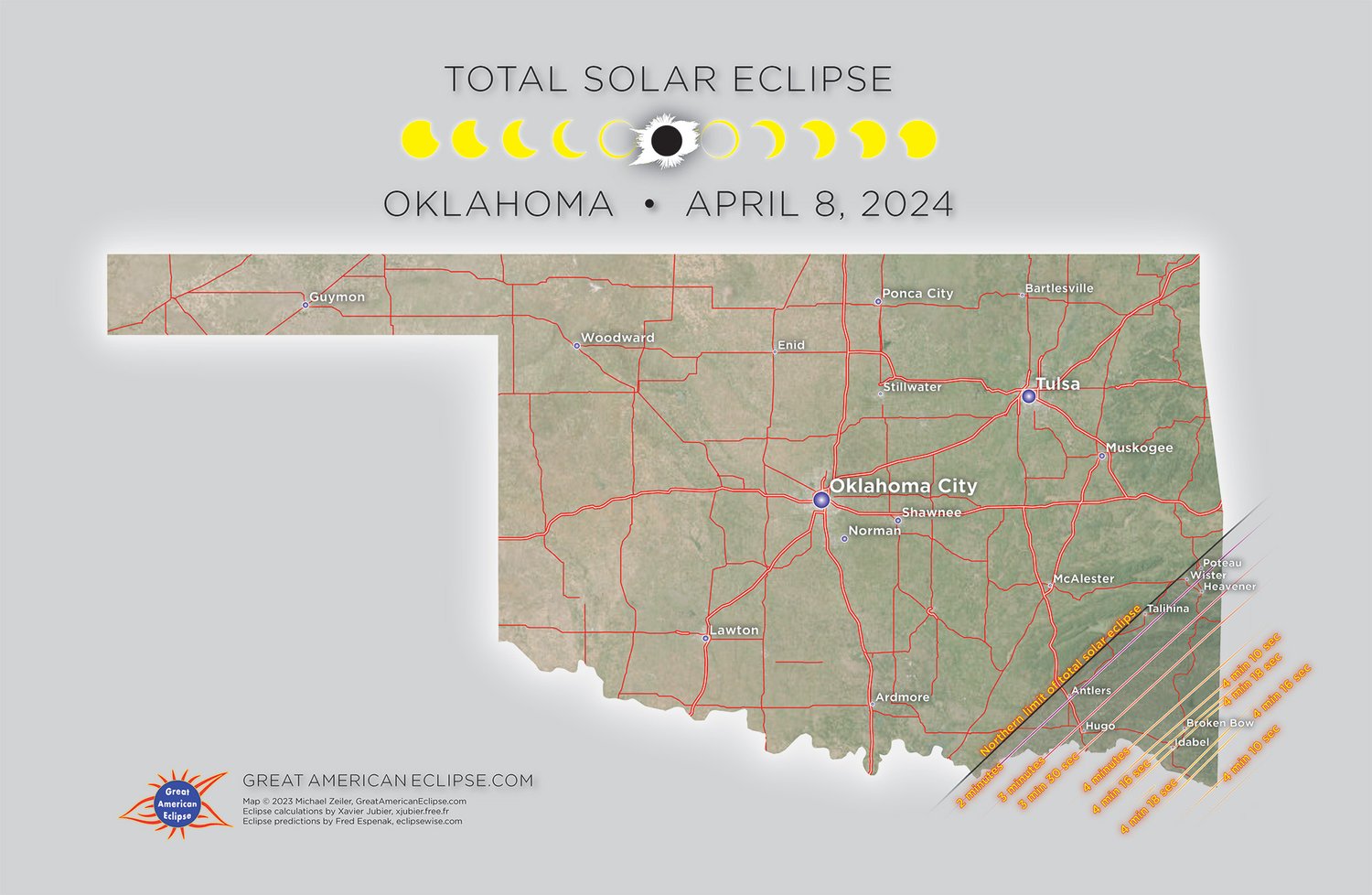 We recommend guests plan and book their travel for the upcoming solar eclipse. We are about 50% booked for the weekend/week of April 8th, 2024.
Below you will find the available cabins that are still available for the solar eclipse in April 2024. If you do not find what you are looking for or are interested in bringing an RV to the area, please email (hello@cabinsinbrokenbow.com) or call (580-212-3555) the office to arrange accommodations.
We predict that everything will book up for the week, cabins and homes, RV parking spots, restaurants, parties, tours, and rentals (boats, jet skis, etc.), so please book as soon as possible.
Where's Broken Bow? Either drive or fly into Dallas, which is about 170 miles away.
Is there a minimum stay for this event? Yes, we are asking guests for a

4-night minimum required booking

.
When is the total solar eclipse? April 8th, 2024.
What time will the eclipse happen? If you are in Broken Bow, the eclipse will begin at 12:28 p.m. CDT and end at 3:07 p.m. CDT, totality occurring from 1:45 p.m. CDT to 1:50 p.m. CDT.
What else can we do while we are in the area? Visit our blog or check out one of our most popular posts, the "Things to Do" directory.
Duration of Solar Eclipse in McCurtain County 
Eagletown: 4 minutes and 18.6 seconds
Idabel: 4 minutes and 18.4 seconds
Broken Bow: 4 minutes and 16.4 seconds
Holly Creek: 4 minutes and 16.3 seconds
Tom: 4 minutes and 13.3 seconds
Oak Hill: 4 minutes and 13 seconds
Hochatown: 4 minutes and 10.2 seconds
North Pole: 4 minutes and 7.5 seconds
Wright City: 4 minutes 3.3 seconds
Valliant: 4 minutes 2.5 seconds
Watson: 3 minutes and 59.9 seconds
Swink: 3 minutes and 52.9 seconds
Smithville: 3 minutes and 49.8 seconds
Bethal: 3 minutes and 45.2 seconds
Octavia: 3 minutes and 36.2 seconds
Available Cabins for Solar Eclipse 2024
Searching Availability...