7 Best Camping Sites in Broken Bow
Camping is Broken Bow is one of Southeast Oklahoma's most popular activities. Whether you're looking for glamping, or a campsite surrounded by activities like fishing, hiking and ziplining, or just a quiet spot under the stars to get away from it all, Broken Bow has it. As a result, the region is cited by numerous travel websites as one of the most popular vacation destinations in the Southern United States. While camping in the area, explore opportunities for Broken Bow Hiking Trails.
You should do three things before you embark on your Broken Bow camping adventure.
First, decide what level of "roughing it" you want to experience. Even if you're not going all-out glamping, you can rent a cabin (we humbly suggest checking out ours; we have everything from studios to those with five-plus bedrooms). It can serve as your home base and your campsite can be your home away from home base. Alternately, you can pitch a tent or park your RV and get your nature on.
Second, decide what activities you'd like to do. Camping comes with all variety of outdoor pursuits in Broken Bow. The whole purpose of this blog post is to help you match what you want to what's available.
Third, consider your budget. You can spend several hundred dollars per night for a luxury cabin, or just 20 bucks a night for a simple but beautiful spot to set up your tent shop.
Keep all those thoughts in mind as you check out these Top 7 Camping Sites in Broken Bow.
Number 1: Glamping
"Glamping" is exactly what its mashup of a name implies: Glamor camping. Above all, glamping is where stunning nature meets modern luxury. But that means different things to different people and in different parts of the country or world. Therefore, a glamping vacation in Broken Bow is going to be far different than one in Bora Bora.
Your options in Broken Bow are truly majestic and pretty easy to find.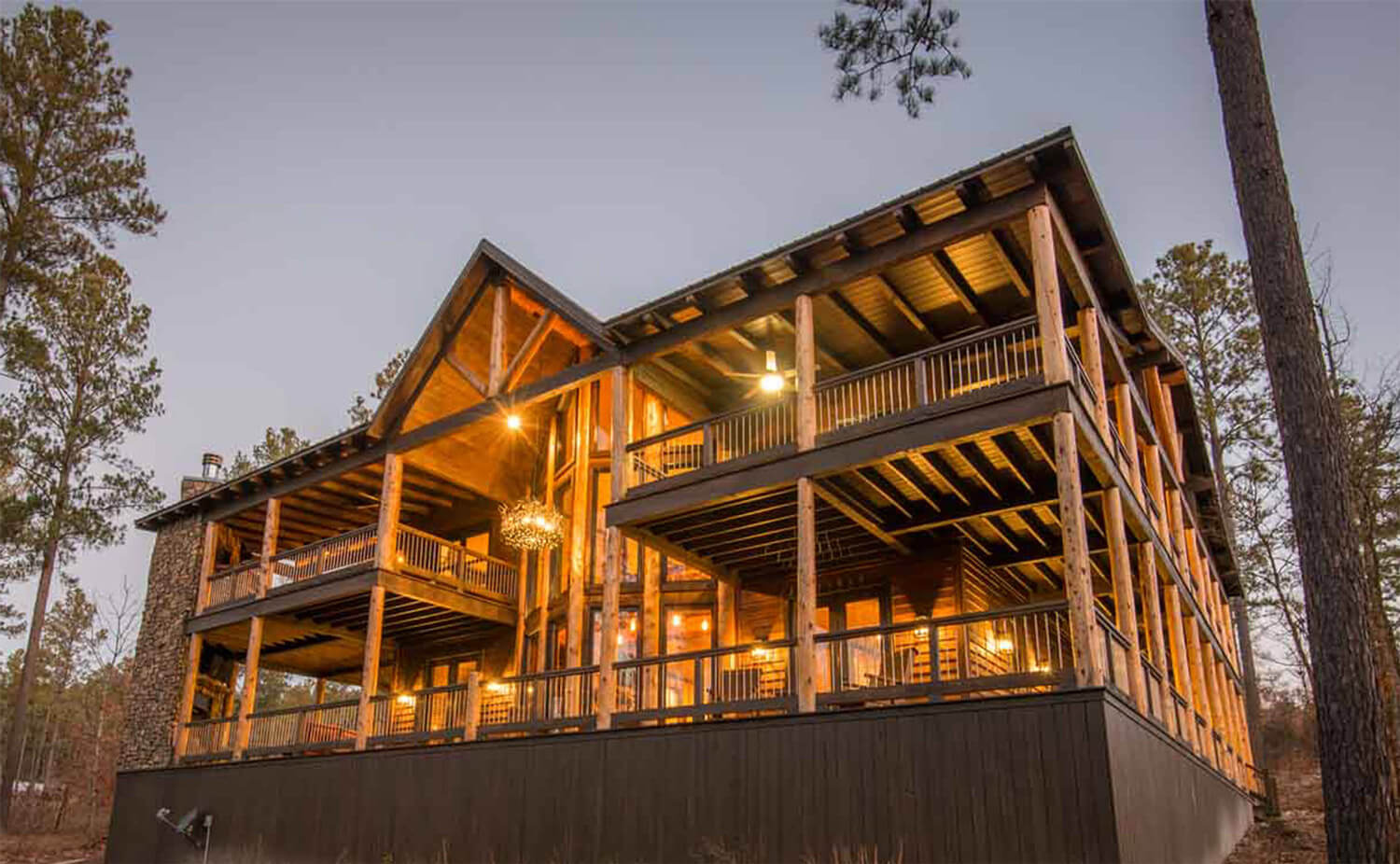 For instance, the website Glamping Hub lists 98 sites in the area; some of the most opulent earn a coveted 5-star rating. One of our most popular glamping worthy cabins is Deck-A-Sauraus.
It can sleep 20 (six bedrooms, four full baths & two half baths and indulgent outdoor space) – and features amenities including two wrap around porches, a covered hot tub, a chef's dream outdoor kitchen with bar top, two outdoor fireplaces with large flat screen TV's mounted above them.
Glamping = Fancy Tents 
In other words, glamping in Broken Bow is luxurious, but it's also adventurous. In addition to your accommodations (which can be taken down a few glamor levels to $100 a night for a fancy canvas tent) you have the full run of the outdoor views and experiences that put Broken Bow on the vacation-destination map.
Travel blogger Jasmine Alley visited in 2018 and published a list of the 5 Best Things About Glamping in Broken Bow:
Bathtubs get a whole lot more romantic
Hot tubbing with a view
Luxurious living spaces
Close proximity to gorgeous views
All of the facilities
In conclusion, if you want to indulge yourself a bit when visiting Broken Bow, give glamping a try.
Number 2: Beavers Bend State Park
Some of the most adventurous and most affordable camping in Broken Bow can be found in the region's state parks. For instance, Beaver's Bend State Park, just 10 miles north of Broken Bow, offers towering timbers, crystal clear waters and rugged terrain that make it an outdoor lover's paradise.
The main area of the park is south of the Broken Bow Lake Dam, just off Highway 259.  The road that runs through the entire park is 259A, which will take you to all the campgrounds.  The basic cost to camp is $12 per tent per campsite; prices range from $22 to 30 for RV camping and sites with electric hookups. Call the park in advance to check on availability: 580-494-6300
The site is described in glowing terms by the official travel web site of Oklahoma.
Must See: Beavers Bend State Park 
"Beavers Bend State Park is located in the mountainous region of southeast Oklahoma along the shores of Broken Bow Lake and the Mountain Fork River," the site reports. "Guests traveling down the winding roads through the forests of pine and hardwood trees will find adventure, beautiful scenery and plenty of activities inside this state park. The scenic beauty of Beavers Bend State Park makes it one of Oklahoma's most popular areas."
Kristy Nichols, an information liaison for the park, says it's a particularly popular camping destination in the fall.
"October or so is really our busiest time of year," she explains. "That's when you've got the leaves changing colors, which is just gorgeous. That makes hiking an extra-special experience."
The cooler temperatures also have a positive effect on fishing conditions and the spirit of romance for campers.
"When it gets colder, it just seems like the trout like to bit a little better," Nichols says, adding that trout streams are stocked year-round and the park features two catch-and-release trophy areas. "And at night time everybody can get a little closer around a campfire."
In addition to camping, hiking and fishing, visitors can enjoy a wide variety of activities, including:
– Boating
– Water Skiing
– Nature Center Activities
– River Float Trips
– Canoeing
– Horseback Riding
– Tennis
– Volleyball
– Mini Golf
Also, guests can escape into the serenity of nature and follow the Mountain Fork River as it flows from the base of Broken Bow Lake through the park below. This area provides visitors with spectacular views, as well as excellent canoeing and fishing opportunities. Check out our Beavers Hideaway cabin, a quaint little hideaway that's perfect for your getaway. It sits on wooded acreage that will let the children stretch their legs until they drop! It has two bedrooms and 1.5 bath with two queen beds and two twin beds (trundle) that easily accommodate 6 people. The cabin is pet friendly with a hot tub, wood fireplace, cable television, WiFi, DVD, fire pit, and charcoal grill.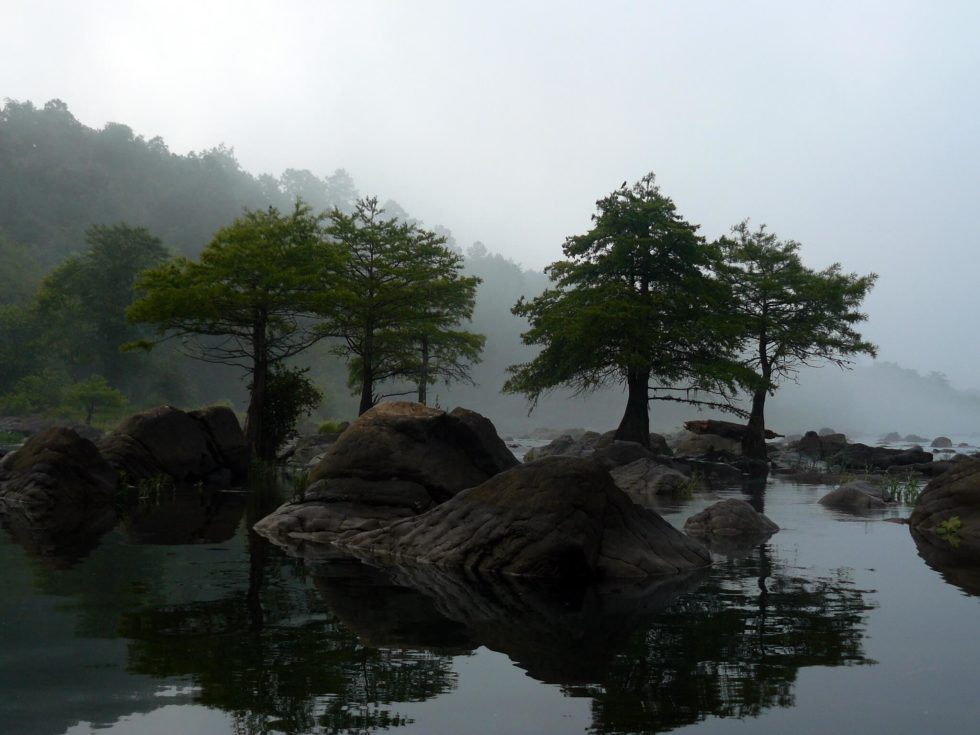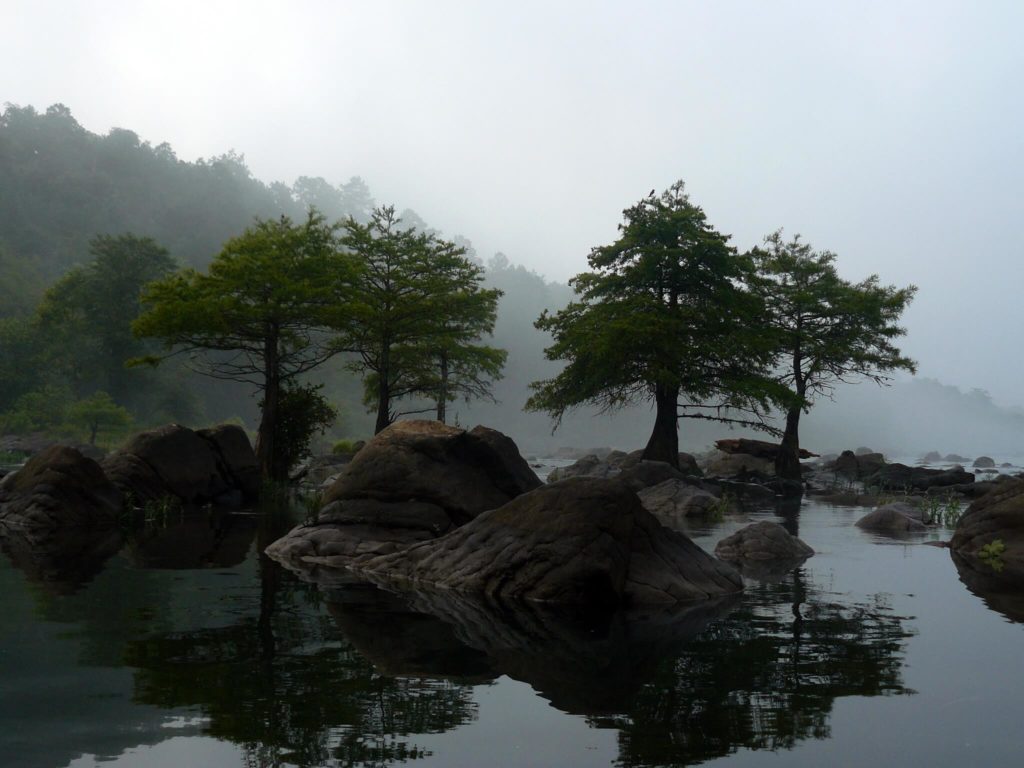 Photo: Thomas & Dianne Jones
And don't miss the picnic areas scattered throughout the area. An amphitheater, gift shop, grocery, restaurant and the Forest Heritage Center can also be found within Beavers Bend State Park.
If you have family members who are not able to camp with you, consider our cabins near Beavers Bend State Park. Accommodating anywhere from 4 to 7 people, these cabins are great for bringing grandma along!
Number 3: Steven's Gap
It's worth singling out the Stevens Gap Area of Beavers Bend, one of the main areas of the park. This park is located on the west side of Broken Bow Lake right off of highway 259. Stevens Gap Area is on the shores of Broken Bow Lake and includes Lakeview Lodge and the Beavers Bend Marina. Above all, this area is heavily treed, offering plenty of shade at the campsites. Both tent camping and RV camping are available.
If you're looking to stay on the lake, the Stevens Gap Area is a great spot to do so. There are over 200 campsites in this area. Most importantly, you have easy access to the marina and boat ramps if you'd like to get out on the lake. A short distance to the south is the main area of Beavers Bend State Park, which is where you'll find canoe and kayak rentals, fly fishing, horseback riding, train rides, and more.
Number 4: Carson Creek
And don't overlook the Carson Creek Area of the park, either. It's located just north of the Stevens Gap Area off of highway 259.  Officials say this is probably the least busy of the three campgrounds – making for a more solitary experience — but it still has plenty to offer.  Both tent camping and RV camping are available in this area as well as some great hiking trails.  In addition, you can find boat ramps here to get out on the lake.
Number 5: Hochatown State Park
Similarly, Hochatown State Park is another natural wonder in the Broken Bow area that offers great camping experiences. The park is home to eight campsites: Blue Jay Drive, Quail Circle, Turkey Circle, Hawk Drive, Deer Drive, Coyote Drive, Armadillo Circle and Eagle Drive.
The campsites tend to be a little less crowded than those at Beavers Bend. As a result. HipCamper Korey T said her experience was enhanced.
"This was my first time to Hochatown State Park and I loved it," she wrote. "I've been to the adjacent Beavers Bend State Park which is also beautiful, but this park has a little less traffic and you feel a bit more isolated which I love. I suggest the Reasoner Point along Eagle Drive for a more secluded camping spot."
Check out our property, Hilltop at Eagle Ridge, just a short drive to all the restaurants, shops, and fun Hochatown State Park has to offer. Yet it is set on a beautiful hilltop surrounded by the Ouachita National Forest for the ultimate privacy and amazing views.  No matter where you are in the three-story house, you get to enjoy beautiful views of the forest and the surrounding hilltops of the Hochatown area.
You can learn more about Hochatown State Park.
Number 6: Mountain Fork Park
True outdoor enthusiasts seem to love Mountain Fork Park. Hikers, fishermen, kayak and canoe enthusiasts enjoy it for rock gardens, rapids, small waterfalls and, of course, camping. The park is located 5 miles east of Broken Bow on Hwy 70 — then turn north onto Re-Regulation Dam road and go 3 miles.
Number 7: River View Camp
One of the sites given the most consistently high marks on travel websites is River View Camp, which was named 2018's Top Camping Spot near Broken Bow by Hipcamp.com – think Yelp with an edgier attitude. The site advertises itself as allowing you to "book unique camping experiences on over 300,000 campsites, ranches, vineyards, public parks and more." And some of its highest-rated sites are in the Broken Bow area.
"If you are longing for the beach, we have 60 acres of white sand beach to play on," site operator J'Lenn Corbett says in describing River View Camp on HipCamp. "You can soak in the sun, cool off in the river, build a sandcastle, collect shells, bring your fishing gear, catch some fish for supper.
"If you enjoy the wind through the trees, we offer shaded creeks to explore. Bring your camera to capture awesome wildlife photos. You could stay at a different campsite every night and think you had moved miles. We offer something for everyone.
"We have tents available for rent if you need, $10/night and we can set them up and take them down for you. Please bring cash if you'd like a tent."
River View Camp: 97 Percent Recommend Rate
Furthermore, River View Camp has a 97 percent recommend rate among reviewers, who single out such attractions as boating, fishing, hiking and horseback riding.
"We highly recommend staying at J'Lenn's property!" a guest identifying herself as Hannah N. wrote. "We stayed two nights at one of their sites a short walk from the white sand beach. The beach was expansive and beautiful and we were they only ones there! We spent most of our time hiking around the beach and our dog absolutely loved playing in the water.
But that's not all she enjoyed about the experience.
"We also got to meet many of J'Lenn's rescue animals and exotic pets, which was amazing!." she added. "J'Lenn and Jody were so accommodating and kind sharing their land with us. They greeted us when we came in after dark and led us to our campsite, where they had already started a campfire for us! We definitely want to book another stay at this campsite!"
Lindsey N. had this to say: "We loved our stay at River View Camp! The property had a little bit of everything. The front of the property vs the back of the property looked like two completely different worlds. Our dogs LOVED running through the fields, sand, and river and we loved taking a break from the hectic city life."
If you are interested in having a river experience without camping, consider our river view cabins.
Campsites Around $20 per Night
How much does such outdoor enjoyment cost? Campsites are just $20 per night and bookable through HipCamp.
Summary
At the end of the day – which can be when the best camping experiences actually occur – pretty much anywhere you decide to pitch your tent will allow you to experience what the American poet Walt Whitman famously said about the benefits of communing with nature.
"Now I see the secret of making the best person: it is to grow in the open air and to eat and sleep with the earth."