Broken Bow Romantic Cabins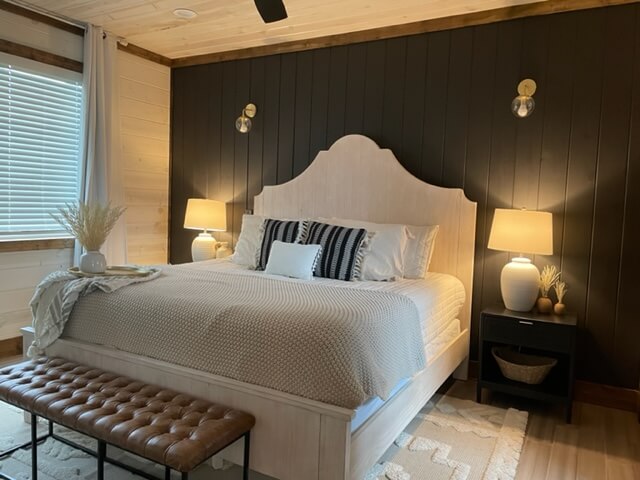 Cabin or Two?
Sometimes we just need time with our special someone. 
Suppose you are looking for a romantic weekend away to celebrate a relationship milestone, or maybe you are planning a post-wedding honeymoon. In that case, the Broken Bow and Hochatown area will have you covered. With thousands of properties in the area, here are some details to find the perfect stay. 
Top couples cabins to explore:
Romantic Honeymoon Cabins 
If it's just the two of you, there are plenty of options. Picturesque porches complete with a swing for two or large cozy rocking chairs to sip your morning coffee while enjoying the natural sounds of the nearby woods. Waterfront or water view spots that offer sexy seclusion. Or, if staying completely inside satisfies you and your soulmate – there are cabin packages that include stocking up on firewood, wine ready to go, and in-cabin couple spa treatments. 
Additionally, you can search for rentals with indoor/outdoor saunas and hot tubs, as well as fireplaces and outdoor firepits. 
More detailed information is available here https://cabinsinbrokenbow.com/category/romantic-cabins/
Things to Consider 
Hot tub (location) 
Almost all cabin properties have hot tubs, but it's essential to know where they are located and what sort of vibe you are going for. Some cabins have hot tubs inside, some are located outdoors, and some even have external structures (i.e., a gazebo) to add privacy and even protect you from the natural elements like rain or snow, so you can enjoy a relaxing soak no matter what the weather may bring. https://cabinsinbrokenbow.com/category/hot-tub/

Cabins with most private hot tubs:
Fireplace 
Like the demand for fabulous hot tubs, most cabins have at least one fireplace. Because we know a glass of wine or whiskey curled up by a lovely fire is a must for a romantic getaway. Many of the newer cabins have multiple fireplaces, one indoors and one outside on the deck. A detail to consider is, do you want the convenience of a gas fireplace, or do you enjoy building a log (wood) fire and like to hear the crackle and pop of the natural fuel? You can search for details on wood vs. gas too. 
Cabins with firepit https://cabinsinbrokenbow.com/category/fire-pit/
Cabins with fireplace https://cabinsinbrokenbow.com/category/fireplace/
BBQ
Speaking of fire, many people enjoy grilling while on vacation. Charcoal and propane burning grills are a popular choice for making your dinner for two. 
Restaurants
If the ideal romantic rendezvous means no cooking or grilling, then you are in luck. There are great restaurants within a short drive of most cabins. Tex-Mex, steakhouses, BBQ, and more. 
For a full list https://cabinsinbrokenbow.com/restaurants-near-broken-bow/
Bed
Everyone desires a good night's sleep, and some prefer a little extra room in bed. Make sure your cabin has the bed size you need and want. Many offer king-size beds, but some might only have a queen-size or full bed. Some couples might be traveling with a small child and might require a pull-out bed or even a second bedroom. All of these details are easily searchable.
Location 
Many come to the area for rest/relaxation and also Broken Bow Lake. If the lake is important to you, consider booking a cabin that is within 2-5 miles from the marina or where you plan to spend time at. Take a look at our cabin map, or feel free to talk with one of our team members about your location preference. 
Privacy 
Keep in mind, with the growth of the area, not every cabin is completely secluded, and sometimes they are far from the next property. Make sure to check the photos and maps of the area, and it also can be a good idea to call the management company to ask how far the next property is from your prospective rental. Also, consider where you might be spending the most time: on the front porch, on the back deck, backyard, or even in the outdoor hot tub. Perhaps the cabin is not located miles from the next… but at least you will have total privacy based on how it's designed and situated. 
Shower and Tub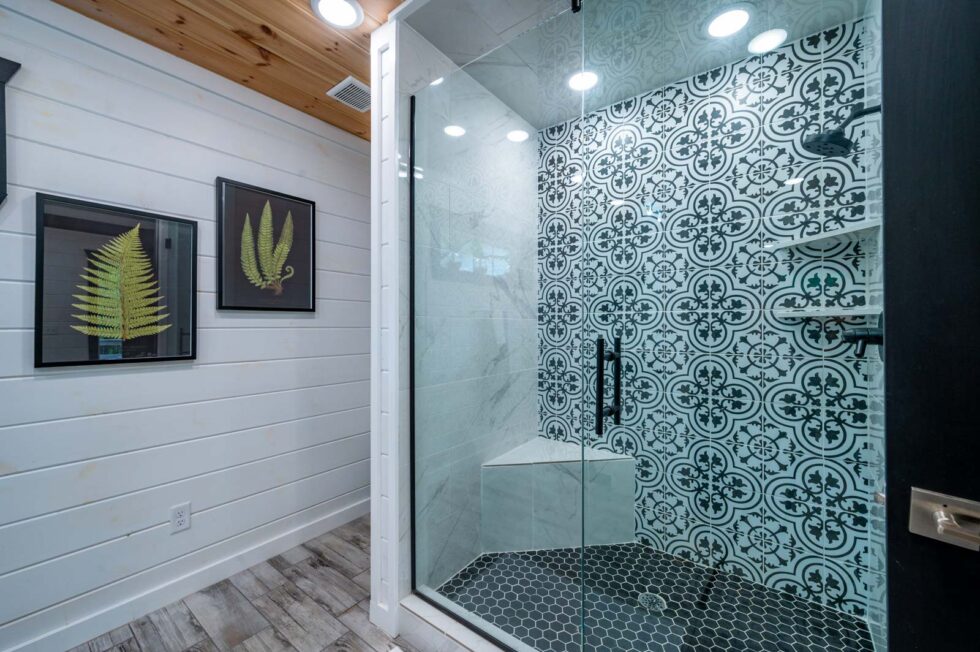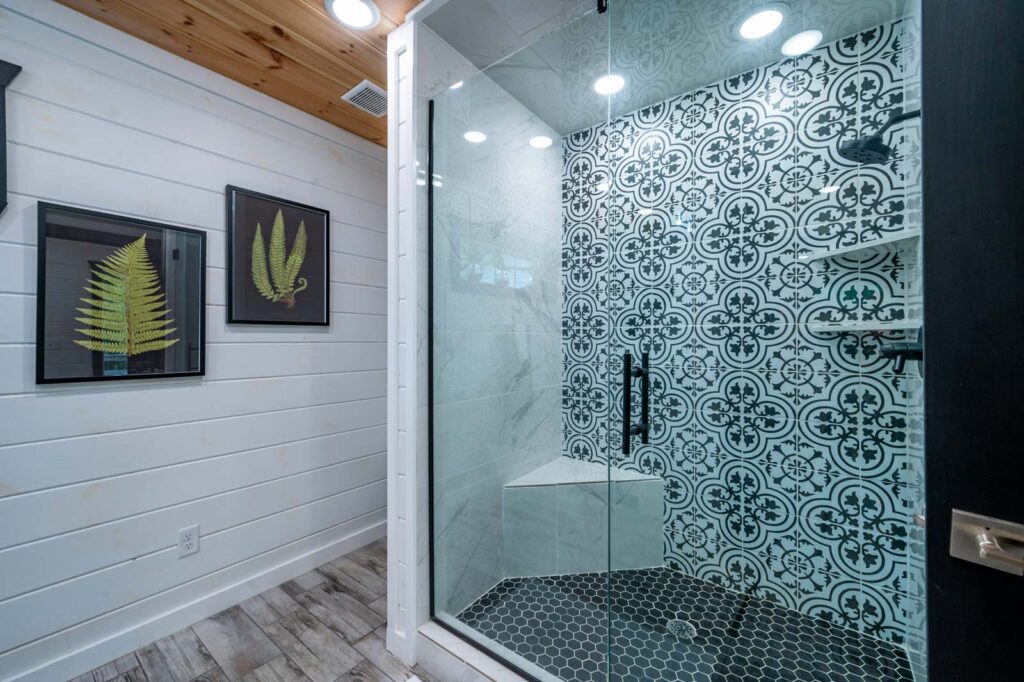 Since this post is about romantic cabins, we can't leave out showers and bathtubs. Make sure you look at the shower photos to ensure it meets your needs. We are also seeing more cabins with soaking tubs that offer you a second option if a hot tub isn't ideal and you prefer bubbles (not recommended or allowed in hot tubs btw.) Shower above: Sugar Hill Cabin.  
Cabins with the best showers:
Traveling with your pet?
Sometimes a getaway means traveling with your "four-legged child." If that's the case, you can find a list of canine-friendly cabins here https://cabinsinbrokenbow.com/category/canine-friendly/
Activities for Couples 
Fishing Lower Mountain Fork River 

Hiking
Canoeing
Kayaking
Boat rental
Zipline
Spa
Biking
Go-Carts
Mini Golf
Golfing
For a full list of activities and information: https://cabinsinbrokenbow.com/things-to-do-directory/
Packages 
We offer packages here https://cabinsinbrokenbow.com/cabin-specials/or; please call our office to ask what's available for your upcoming trip.