Cabin Specs
Sleeps: 4
Bedrooms: Studio
Bed:  King & Queen Futon
Baths: 1
Fireplace: Yes
Fire Pit: Yes
Hot Tub: Yes
Dishwasher: No
Washer & Dryer: No
Pet Friendly: Yes
EV Charger: Yes
Extras:
Charcoal Grill, Satellite/Cable, WiFi, Newly Remodeled, Military Discount, NEMA 14-50 plug for EV charging
Pet Friendly • indoor hot tub • budget-friendly cabin
Cabin Description
The Haven is a one-bedroom (studio) cabin perfect for honeymooners or spending an anniversary away. It can accommodate up to four guests with one king bed and one queen futon. The cabin has a warm, inviting, open floor plan that is perfect for any couple or a small family. Enjoy the brand-new updated fireplace!
The Haven includes:
one bathroom with a shower
 a cozy kitchen with a bar
 covered back deck looks into the woods and is a great place for grilling
 is a pet-friendly cabin
 has an indoor hot tub
 Roku TV, high-speed wifi
 outdoor fire pit in the back of the property
EV Charger (NEMA plug 14-50)
EV Charging
The Haven offers EV charging for one vehicle staying at the property. Please note that you must bring your charging cable to fit the NEMA 14-50 plug. If you are unsure, please review this helpful blog https://cabinsinbrokenbow.com/ev-charging-stations-in-broken-bow/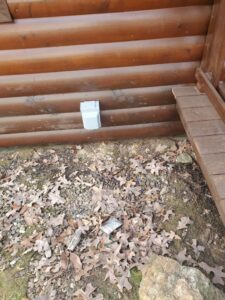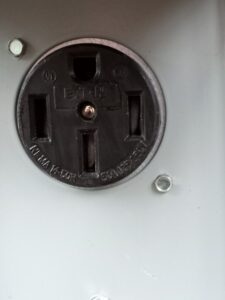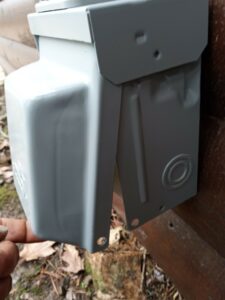 Cabin Location
The Haven is close to Beavers Bend State Park's south entrance (off Highway 259). Within a ten-minute drive, you can access shopping, restaurants, fitness, Broken Bow Lake, Beavers Bend Marina, and other water activities.
Nearby Attractions
Beavers Bend State Park
Beavers Bend State Park is a 1,300 acres Oklahoma state park in McCurtain County. It is approximately 10.5 miles north of Broken Bow on SH-259A. It was established in 1937 and is home to Broken Bow Lake. More info https://visitmccurtaincounty.com/parks/parks-rivers-lakes/beavers-bend-state-park/
Broken Bow Lake
Broken Bow Lake is a reservoir in southeastern Oklahoma, located on the Mountain Fork River and 9 miles northeast of Broken Bow in McCurtain County. More info https://visitmccurtaincounty.com/parks/parks-rivers-lakes/broken-bow-lake/
Beavers Bend Marina
The deep, clean water at Beavers Bend Marina on Broken Bow Lake is ideal for family vacations and outings. It is perfect for boating, fishing, sailing, waterskiing, wakeboarding, jet skiing, tubing, swimming, family picnics, and outings.
Rentals: wakeboard boats and pontoons, houseboats, jetski
Cedar Creek Golf Course
Known for its pine-rimmed fairways, Cedar Creek Golf Course in Beavers Bend State Park is one of the most beautiful courses in the state. Nestled in the foothills of the Kiamichi Mountains, pine forests and the deep-blue waters of Broken Bow Lake surround the long, narrow course. Crystal-clear Cedar Creek runs through the course, providing beauty, wildlife, and hazard. The course features 18 holes at par 72, Bermuda grass greens, tees and fairways, a putting green, a driving range, a pro shop with cart and club rentals, snacks, and drinks. More info https://www.travelok.com/listings/view.profile/id.1168
Wineries, Breweries & Distillery
Vojai's Winery http://vojaiswinery.com/
Mountain Fork Brewery https://www.mtforkbrewery.com/
Hochatown Distilling Company https://www.hochatowndistilling.com/
Hochatown Saloon https://hochatownsaloon.com/
Local Favorite Restaurants
Abenbdigo's Grill & Patio https://abendigos.com/
Grateful Head Pizza https://gratefulheadpizza.com/
For Cabins in Broken Bow's full list of "things to do" in Broken Bow and Hochatown, go to https://cabinsinbrokenbow.com/things-to-do/
Searching Availability...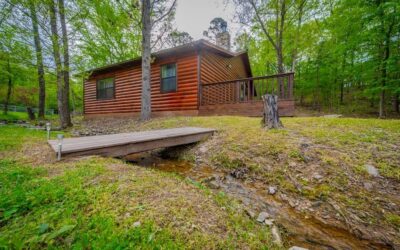 Sleeps 6 –   Bedrooms: 3
Come relax with your family and enjoy this cozy cabin! Located within the Beavers Bend Village area of Hochatown, and near the main entrance for Beavers Bend State Park; Creekside Casita is a pet friendly 3 bedroom, 1 bath cabin that offers wifi, wood fireplace, hot tub, Roku, and dishwasher.