EV Charging Stations in Broken Bow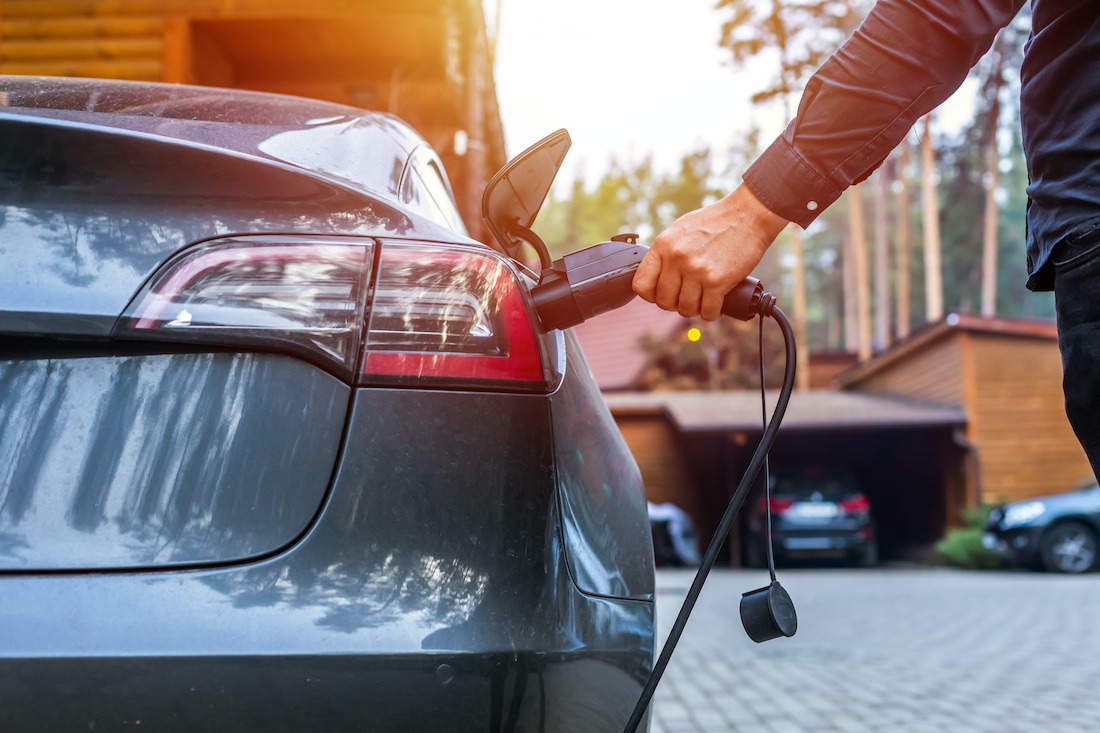 Post date: July 2022
If you are heading to Hochatown or the Broken Bow area, there's a good chance you are coming from 100-200 miles to get here, which means your EV will be ready for a charge when you arrive. 
With over 2 million visitors annually, there is a growing demand for charging stations for those driving an electric vehicle. If you are an EV owner, you are probably curious about what the area offers for electric vehicle charging. Below is a short list of what we plan to cover in this post:
Helpful apps for charging locations

Cabins with chargers 

What to bring with you (cables and adaptors) 

Types of chargers and plugs 
Locate EV Charging Stations
If you have not traveled long distances in your EV and typically only charge at home or your local grocery store, you might not be used to locating a charging station in a new area. And to add another layer of detail, you might also not be familiar with the various types of charging options that are available and some of the nuances. 
EV Apps and Websites 
Below are some helpful websites to find charges for your trip: 
Charging Stations in Broken Bow
At this time, we are not aware of any EV charging stations (multiple public charges or Super Chargers) in Hochatown, Broken Bow, or Broken Bow Lake. We speculate that the new Choctaw Casino and Resort (coming to Hochatown in 2023) will offer Level 2 or Level 3 charging stations to accommodate guests and those visiting for food or entertainment. Because of this, you probably will; need to find a cabin with a charger or a stand-alone business that offers a charging plug. 
Please see below to locate a cabin with a charger.  
Cabins we manage that have EV Chargers 
Chautauqua (Tesla charger) view cabin here https://cabinsinbrokenbow.com/chautauqua/
The Haven (NEMA 14-50 plug) https://cabinsinbrokenbow.com/the-haven/
Cabins with Chargers 
To charge your EV, the best option is to rent a cabin with an EV charging station or a NEMA plug. To find a property in the area, check out PlugShare https://www.plugshare.com/ to see what is available and what they specifically offer. 
If you have already rented a cabin that does not offer EV charging, you should locate a public charger or plug – again, try PlugShare https://www.plugshare.com/. With this option, you will likely need to bring your own charging cable. 
Airbnb's with Chargers
At the time this post was written, there are about 56 properties that offer some level of EV charging on Airbnb in the Broken Bow area. Please note that this does not mean that every property has a wall-mounted EV charger that will accommodate your vehicle. Always inquire about what "EV charger" is available to you.  
VRBO's with Chargers
When we did a search on VRBO, we did not see the ability to select properties with an EV charger – which makes it hard to know what cabins might have a NEMA outlet or a hardwired charging station. Hopefully, VRBO will add this to their search filter in the near future. 
Preparing for Your Visit 
Traveling with Your Charger (recommend)
Based on the information found on PlugShare, there looks to be a mix between Tesla chargers and NEMA plugs; therefore, you will need to supply your own charging cable if only a plug is available. There are different types of "NEMA" plugs therefore, we strongly recommend you know what type of charger you have.     
Tesla and J1772 Adaptors (consider)
"Help! Our cabin has a Tesla charger, but our EV uses a J1772." No problem! If you are driving a common EV (non-Tesla), it might be wise to travel with an adaptor that will allow you to use a Level 1 or Level 2 Tesla charging cable. This adapter will plug into the end of the Tesla charger head and fit your J1772 changer port. See this non-affiliate link for an option: https://www.amazon.com/Lectron-Tesla-Charger-J1772-Adapter/dp/B07V7V2QT8
For those needing to go from a J1772 charging cable to a Tesla plug, you might consider something like this https://www.amazon.com/dp/B08HGQK323/. This would help if someone has a charger cable, but it's incompatible with your Tesla. 
Adaptors can come in handy no matter where you are traveling. You definitely don't want to be out of battery in your EV, and the only reason you can't charge is not having an adopter.  

Types of NEMA Plugs
Not all NEMA plugs are the same! Please make sure your charger works with the plug you plan to use. If you are unsure, this article is very helpful and offers visuals https://clippercreek.com/different-plug-types/. Please make sure you get confirmation that the plug at your cabin matches your charger.
Again… Bring Your Charging Cable 
Since the Broken Bow and Hochatown area does not have a surplus of EV charging stations, we recommend (1) you know what's available before you depart home and (2) travel with a Level 1 and Level 2 charging cable. 
EV Chargers and Speed 
Level 1 Charging
A Level 1 charger is the slowest and utilizes any plug directly into a standard 120 volt (V) AC outlet supplying average power output of 1.3 kW to 2.4 kW. This power output is equivalent to 3-5 miles of EV range per hour.
Level 2 Charging
A Level 2 charger is the second fastest charging system that delivers an electrical current from an outlet (i.e., NEMA plug) or hardwired unit to the vehicle via the connector, similar to a standard-issue charger. However, Level 2 car chargers need a 208-240 Volt, 40 Amp circuit. 
Level 3 Charging
A Level 3 charger, also known as a "supercharger," can deliver up to 900-Volt and is the fastest type of charging available. Level 3 uses DC current and can recharge an EV at a rate of about 20 miles of range per minute. At this time, we are unaware of any Level 3 chargers available in the area. 
Reminder:
There is a good chance this post will not always have the most up-to-date information on what EV charging solutions are in our area. We would strongly suggest using the websites above and calling any place (this will likely be the management company that you booked your property through) or location to double check if they still offer EV charging and what equipment they have. They might offer a hardwired charger, and you might need an adapter, or if they only offer a Level 2 NEMA plug, you might need to supply your own charging cable. 
If you have any questions, you can always reach out to our team here https://cabinsinbrokenbow.com/contact/