Cabin Specs
Sleeps: 4
Bedrooms: 1
Bed: 1 King and a Queen Fold Out Couch
Baths: 1
Fireplace: No
Fire Pit: Yes
Hot Tub: Yes
Dishwasher: Yes
Washer & Dryer: Yes
Canine Friendly: No
Extras:
Charcoal Grill, Satellite, Wifi
Sleeps 4-Little Lodge is a cozy cabin that will take you away to rest and relaxation. With a hot tub on the back deck and fire pit in the front yard, you are sure to enjoy this little home away from home. Little Lodge has one bedroom with a king bed and pullout sofa in the living room. It has a charcoal grill, hot tub, wifi, and washer & dryer.
Searching Availability...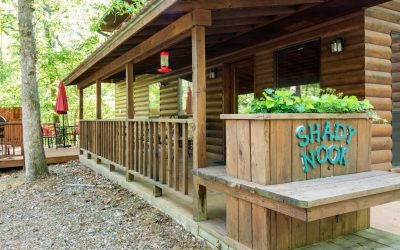 Sleeps: 10 — Bedrooms: 4
Shady Nook is an economical cabin in Broken Bow. Carve yourself a nook in time and space for R & R with family and friends. Shady Nook has a beautiful patio to enjoy a family BBQ. The hot tub is surrounded by a privacy fence, letting you enjoy the stars in solitude.