The Best Fishing Guides and Fishing Spots Near Broken Bow Oklahoma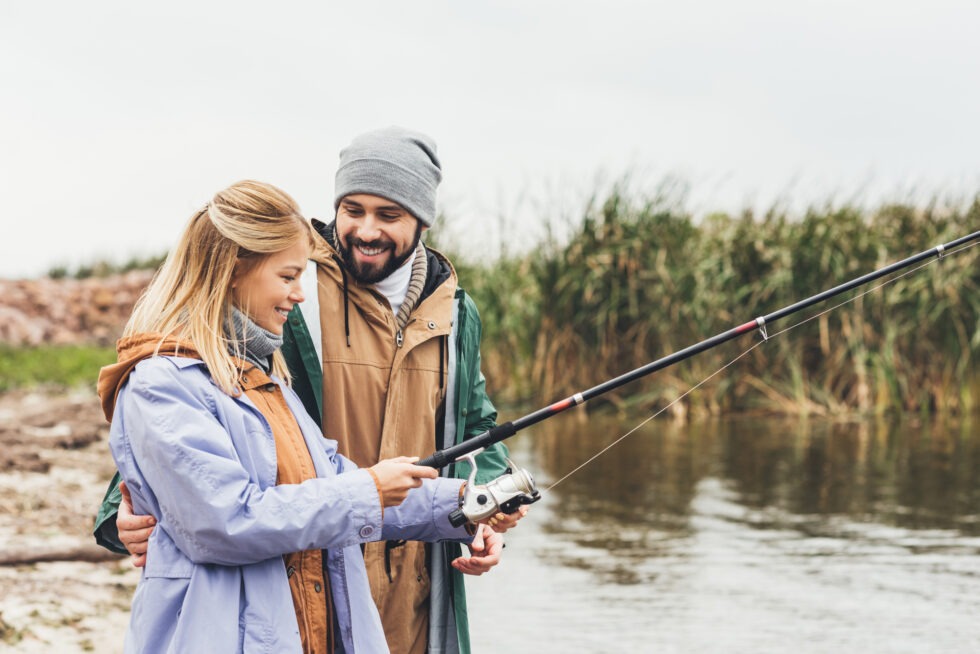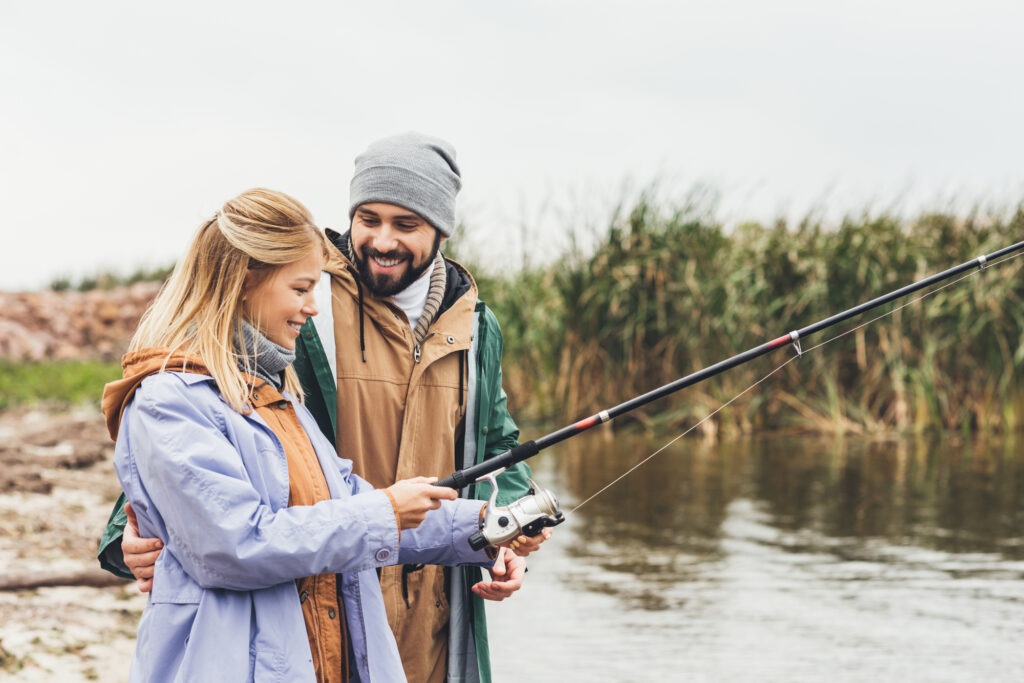 If you're on the hunt for your next perfect getaway, you need to know about the best fishing guides and the best fishing spots near Broken Bow, Oklahoma. 
Rent a cabin by the water for your next vacation with family or friends and go fishing in Broken Bow. Beaver Brook State Park has some of the best fishing spots in all of Oklahoma!
Keep reading to learn more about:
The kinds of fish you can catch

The best fishing guides in the area

The best fishing locations around Broken Bow, Beavers Bend, and Hochatown
Best Fishing Lake Near Broken Bow
Broken Bow Lake is not only a wonderful area to rent a cabin in Broken Bow, but it is also a fantastic lake for fishing. It is located in Beavers Bend State Park, and covers over 14,000 surface acres! The water is clear and fresh, which is great for swimming.
The park is located near the bustling town center of Hochatown. There, you can dine in a number of wonderful restaurants after a full day of fishing on the water. Some delicious finds are Abendigo's Grill and Patio and Grateful Head Pizza.
There are many places to rent boats, like kayaks and canoes. You can opt for a simple camping trip by the water, or you can level up and rent a lovely cabin to share with your family and friends.
Broken Bow Lake is the best place to go fishing near Broken Bow. You can check out their website for more information at brokenbowlake.org.
Best Places for Fly Fishing
There is one area of Broken Bow Lake that offers the best fish spots in Broken Bow for fly fishing. It's called the four-mile trophy section.
What makes it so perfect is that no boats are allowed in this small designated area. However, you must be aware that barbed hooks are also not allowed in this part of the lake.
Beaver's Bend fly fishing is a fantastic activity to relax and enjoy your time off. Once you catch your full, you can head back to your Oklahoma cabin rental and enjoy fresh trout, catfish, or bass.
Fishing Guide Services
If you want to have the best chance of having a successful fishing adventure, you'll want to hire a fishing guide to show you the best fish spots in Broken Bow. Fishing in Broken Bow, OK can be tricky if you aren't a local because you don't know the best spots for the specific fish you want to catch.
Here are some of the best fishing guides that the Broken Bow area can provide!
Rudy's Guide Service
Contact the reliable Rudy's Guide Service for guided crappie and bass fishing trips. Their services are offered year-round, and you can be sure you'll get your money's worth. If you don't catch any fish on your trip, you don't have to pay!
If you want to embark on a solo trip with your guide, that will cost $275 for 5 hours or $350 for 8 hours. You can also opt for a two or three-person trip. Those cost $325 and $425 for 5 hours, and $450 and $550 for 8-hour trips.
You can also select a group trip and must contact Rudy's Guide Service for specific pricing. You can contact them here:
Broken Bow Lake Guide Service
Bryce Archey, the owner and operator of Broken Bow Lake Guide Service, uses his 25 years of fishing guide expertise in Broken Bow lake to provide custom fishing trips for his clients.
Bryce can help you fish for walleye, spotted bass, largemouth bass, smallmouth bass, and white bass. He learned to fish and explore Broken Bow Lake with his father, who has also a fishing guide in this area.
Broken Bow Lake Guide Service offers competitive prices.
A three-hour trip with 1 to 2 people costs $285. If you pay with cash, you get a $10 discount.
If you want to be out on the water for 5 hours, it will cost either $340 or $325 if you pay with cash. Lastly, a full-day 8-hour trip costs $445 or $425 with a cash discount.
Book a trip with this friendly and experienced guide here:
Huffman's Guide Service
Experienced fishermen and rookies alike can learn something new and benefit from hiring Huffman's Guide Service for your next fishing trip in Broken Bow.
Steve is extremely passionate about fishing and showing you the ropes. He can help you find the best spots and use the best techniques to catch all kinds of bass, crappie, and other fish on the lake.
Steve can take up to 4 people on a trip on his boat. One 5-hour trip with 4 people costs $500, an 8-hour trip costs $525, and 10-hour trips are $600. If you want to bring 3 people on your guided fishing trip, it will cost $400 for 5 hours, $450 for 8 hours, and $525 for 10. For an individual trip or a trip for 2, that will cost you $300 for 5 hours, $375 for 8 hours, and $450 for 10 hours.
If you'd like to book a guided fishing trip with Steve, you can contact him here:
Mountain Fork Outfitters
Mountain Fork Outfitters Trout Fishing Guide is an organization that is here to help you accomplish all of your fishing goals on Broken Bow Lake. They offer two 4-hour guided fishing tours each day, and up to 6 people can go on each tour.
Everyone on the trip is provided with artificial lures, fishing poles, and spincast reels. To learn more about their pricing, you can contact them on their website or call them on the phone.
Bob's Guide Services
Bob's Guide Services offers fly fishing services on Broken Bow Lake and Mountain Fork River. You can take a half-day trip or a full-day trip. Bob's is great for family tours and for bringing the little ones out on the lake!
For a half-day, 4-hour trip with one or two people, that will cost you $225. If you want to add more people to your tour, each body costs an additional $15. Full-day or 8-hour trips cost $250 per person.
Book your trip here today:
Beavers Bend Fly Fishing and Conventional Fishing Guide Service
If you want to go fly fishing in the Mountain Fork River in Beavers Brook State Park, you should book a tour with Beavers Bend Fly Fishing and Conventional Fishing Guide Service. You can also take advantage of their conventional rod fishing services.
They offer half-day conventional fishing trips at $150 for 1 angler, $200 for 2 anglers, and $250 for 3 anglers.
For fly fishing trips, you need to contact the guides for their pricing information. You can do that here:
The Fish You Can Catch Near Broken Bow
Broken Bow Lake and its rivers and tributaries are filled with a diverse range of fish species that you can catch.
There are a few species of trout:
Rainbow trout

Brook trout
You can fish for crappies, channel catfish, and walleye at the right time of year.
There's also a large number of bass species:
Largemouth bass

Smallmouth bass

Spotted bass

White bass
Nearby Bait Shops
Here are the best-recommended bait shops in and around Broken Bow, OK! They provide you with anything you need to get those fish biting, no matter what fish you're trying to catch.
Three Rivers Fly Shop 
Beavers Bend Fly Shop
Hookers Live Bait Fire and Ice
Lakeway Bait and Tackle
Best Fishing Season
No matter what season you decide to book a cabin rental in Broken Bow, OK, you will be able to go fishing.
If you want to save money on Oklahoma cabin rentals and take your trip during the winter, you won't have to sacrifice your fishing trip. That's because February is the perfect time to fish for Walleye in the Broken Bow Reservoir. During this month, the Walleye migrate from the upper Mountain Fork River and into the lake.
You can fish for rainbow trout and many species of bass all year round, so you can truly take your vacation whenever you please. If you want to go during the summer, make sure to book your cabin early before they're all reserved!
Don't Forget Your Fishing License
In order to fish in the state of Oklahoma, you must purchase a fishing license. Prices range from $5 a year for youth fishing to $225 for a lifetime fishing license. You can purchase a fishing license at a local convenience store or Walmart! 
Go Fishing in Broken Bow Today!
Whether you fish on your own using this guide or hire one of our top fishing guides, you can be sure that you'll enjoy the gorgeous scenery and have an abundance of opportunities to catch the fish of your choice.
Remember to book that cabin near Broken Bow so you have a place to relax when you're done fishing for the day.
Hurry up! Cabin rentals in Broken Bow get reserved fast. You can find the perfect cabin for your next fishing trip when you contact us today!