Cabin Specs
Sleeps: 6
Bedrooms: 3
Bed: 2 Full, 1 Queen
Baths: 1
Fireplace: No
Fire Pit: Yes
Hot Tub: Yes
Dishwasher: No
Washer & Dryer: Yes
Canine Friendly: Yes
Extras:
Charcoal Grill, Wifi, DVD, Cable, Military Discount, Boat friendly pull-through driveway, Horseshoes.
Cabin Description
Sleeps – 6   You really can't go wrong with Bear Hollow. It's a quaint little getaway place that boasts a fenced in backyard for your furry friends. It also has wifi, cable, DVD player, outdoor fire pit, hot tub, charcoal grill, and washer and dryer. All this at a great rate and it's only minutes from Beavers Bend State Park and Broken Bow Lake!  And a new shopping area & restaurants you can save gas and walk over.
Bear Hollow Includes:
Fire Pit
Wooden Swing
Charcoal Grill
Satellite TV, and WiFi
Fenced in backyard
Cabin Location
Bear Hollow is located off of 259  on the west side of the highway in Hochatown
Searching Availability...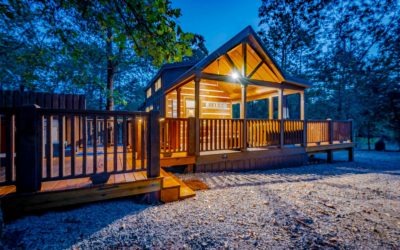 Sleeps: 4 — Bedrooms: 1
Located on 2.5 acres along with the beautiful Shine On Harvest Moon cabin; this tiny cabin will be a sweet retreat to escape from all of your worries and cares. One bedroom one bath with a king size bed. Near the main entrance for Beavers Bend State Park.